Newport Classical Presents
Violinist Chad Hoopes and Pianist Anne-Marie McDermott in Concert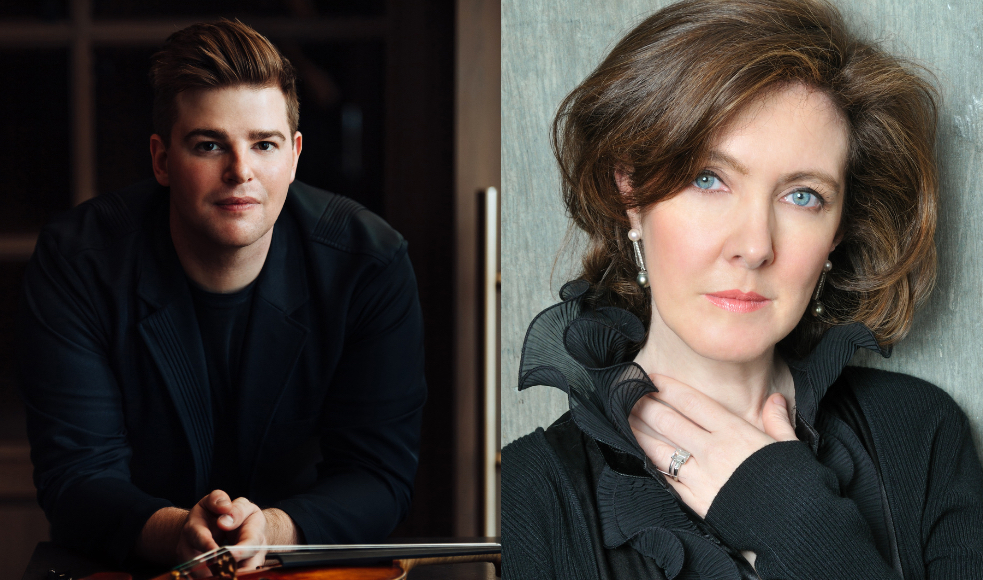 Friday, October 6, 2023 at 7:30pm
Newport Classical Recital Hall | 42 Dearborn St | Newport, RI
"One admired the elegance of Ms. McDermott's playing: electric in its eagerness but always poised, never out of control…" – The New York Times
Tickets and Information: www.newportclassical.org/event/hoopes-mcdermott
Newport, RI – As part of its Chamber Series, Newport Classical presents a special evening featuring two internationally renowned soloists and chamber musicians – violinist Chad Hoopes and pianist Anne-Marie McDermott. The high-powered, virtuosic duo performs on Friday, October 6, 2023 at 7:30pm at Newport Classical Recital Hall (42 Dearborn St.).
Newport audiences have the rare opportunity to hear these superb artists – who regularly perform at venues such as Lincoln Center, Carnegie Hall, Symphony Hall, and more – in the intimate setting of the Newport Classical Recital Hall.
Violinist Chad Hoopes has blazed his way across stages worldwide as a soloist and collaborator of deep artistry and supreme lyricism. He dazzled Newport audiences with his 2022 solo appearance with Orpheus Chamber Orchestra at The Breakers. The world-renowned American pianist Anne-Marie McDermott is also returning to Newport – she previously performed as a Festival Artist from 1990-97.
Of returning to Newport after being part of the festival in the 1990s, McDemott says, "My years performing at the Newport [Music] Festival were some of the most magical and memorable moments in my early career. It was such a transformative time in my life as a pianist and the privilege of playing concerts with so many extraordinary artists during my years in Newport inspired me endlessly. It is a complete joy to be coming back to play this recital."
The duo's program is anchored by Beethoven's Sonata No. 9 in A Major, Op. 47, known for its technical difficulty and wide emotional range. At 40 minutes in length, the scope of the piece is symphonic in nature. Beethoven composed it in 1803 for his friend, the Polish/African/German/English violinist George Bridgetower, who gave the premiere that year. Fauré's Sonata for violin and piano No. 1, Op. 13 is considered one of the composer's early masterpieces, and opened new doors for him upon its premiere in 1877. The piece became a staple of the repertoire – the writer Marcel Proust even paid tribute to it in his novel In Search of Lost Time. Mozart's Violin Sonata No. 27 in G Major Sonata, K. 379 was composed in 1781, for the leader of the Salzburg orchestra, Antonio Brunetti. Although Mozart claimed to have written the piece in just one hour, it has endured as a masterpiece for over 200 years. More about the artists:https://www.chadhoopes.com/abouthttps://www.annemariemcdermott.net/page4/biography.html
For Newport Classical's complete concert calendar, visit www.newportclassical.org/concerts
About Newport Classical:
Newport Classical is a premier performing arts organization that welcomes people of every age, culture, and background to intimate, immersive musical experiences. The organization presents world-renowned and up-and-coming artistic talents at stunning, storied venues across Newport – an internationally sought-after cultural and recreational destination.
Originally founded in 1969 as Rhode Island Arts Foundation at Newport, Inc. and previously known as Newport Music Festival, Newport Classical has a rich legacy of musical curiosity having presented the American debuts of hundreds of international artists and is most well-known for hosting three weeks of concerts in the summer in the historic mansions throughout Newport and Aquidneck Island. In 2021, the organization launched a new commissioning initiative – each year, Newport Classical will commission a new work by a Black, Indigenous, person of color, or woman composer as a commitment to the future of classical music.
Newport Classical is proud to be an essential pillar of New England's cultural landscape, and to invest in the future of classical music as a diverse, relevant, and ever-evolving art form. Newport Classical's four core programming initiatives – the iconic summer Music Festival taking place across Newport; the year-round Chamber Series at the organization's home base Newport Classical Recital Hall at Emmanuel Church in downtown Newport; the free family-friendly Community Concerts held in green spaces around Aquidneck Island; and its newly expanded Music Education and Engagement Initiative program – illustrate the organization's ongoing commitment to presenting "timeless music for today."
Chad Hoopes, photo by Jiyang Chen
Anne-Marie McDermott, photo by Matteo Trisolini
# # #